This is what happens in an Internet minute in 2017
Facebook: 3.3 million posts  . … 900,000 logins
WhatsApp: 16 million text messages
Youtube: 4.1 million videos viewed
 Apple Store & Google Play: 342,000 mobile apps downloads
Google: 3.5 million search queries
Instagram: 46,200  posts uploaded
Twitter: 452,000 Tweets sent
Snapchat: 1.8 million snaps created
Email: 156 million emails sent
Spotify: 40,000 hours listened
LinkedIn: 120 new accounts created
15,000 images sent via messenger
$751,522 spent online
NetFlix: 70,017 hours watched
Tinder: 990,000 swipes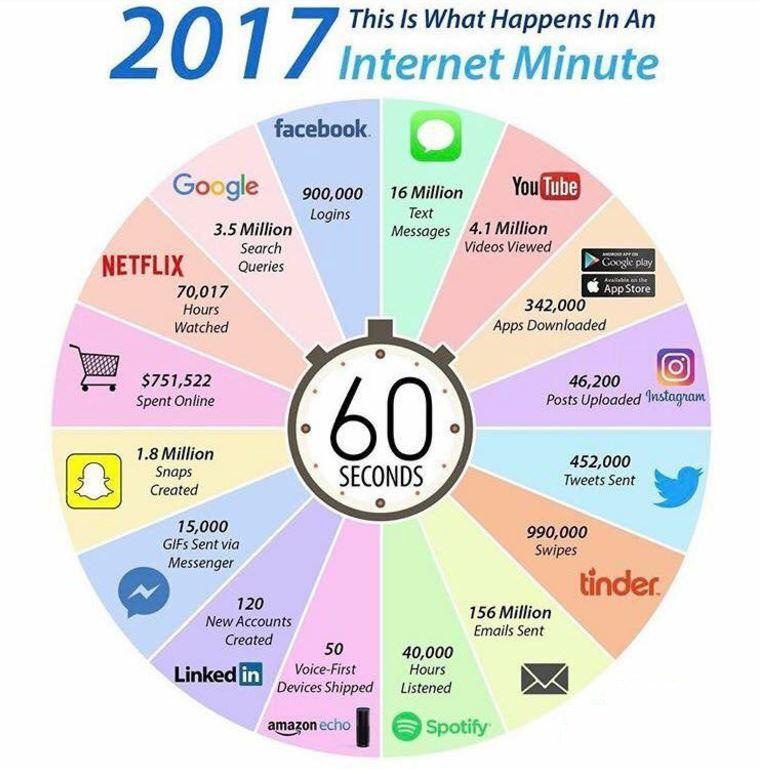 The World has fallen in love with social media and now automatically turns to online platforms and downloading apps to research , engage , buy products & services. This gives fantastic opportunities for marketers , business development managers ,  owners and decision makers  to engage audiences , promote their services, products , brands and sales and gives them huge challenges of getting  cut-through and keeping  to-the-date of the emerging technologies , the demands & needs of this digital generation by deploying smart solutions and mobile applications.
Don't wait anymore, go smart today and increase your business productivity, grow your market & promote your brand with mobile apps development and software solutions from Advansoft.
Advansoft is not only one of the top companies in the list of mobile apps development companies in Dubai, UAE , but also among the best mobile applications development companies in GCC region including Saudi Arabia, Qatar , Bahrain , Kuwait and Oman.
Contact us today , and let Advansoft team of mobile apps developers & software experts from the best mobile apps development company develop and deliver a top rated and innovative mobile applications for your business, as we have done for Smart Salik and DIB mobile apps and solutions. Advansoft has the best mobile apps developers for all smartphones platforms and apps including:
– ios apps development ( iphone apps and ipad apps)