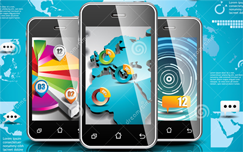 UAE has among the highest percentages of smartphone penetration in the world
Did you know that the Middle East has one of the highest percentages of smartphone penetration in the world? According to eMarketer, 79% of Saudi Arabia's entire population used a smartphone last year. In UAE the corresponding figure was a whopping 91%, an uptick of nearly 20 percentage points in a single year. In Kuwait, smartphone penetration rose from 49% to 86% in a period of two years.
The driving forces behind these astounding adoption rates are consumers, who now feel the need to be constantly connected to the rest of the world and are trading in their old flip phones for new smartphones. At the same time, there is also a huge influx of younger consumers, who can now afford smartphones, thanks to the presence of less expensive options available in the market.
Based on the above astonishing stats, and in order to meet the consumers' needs business and firm should highly considering of mobile applications development & solutions to their products and services.
Advansoft is not only one of the top companies in the list of mobile apps development companies in Dubai, UAE , but also among the best mobile applications development companies in GCC region including Saudi Arabia, Qatar , Bahrain , Kuwait and Oman.
Increase your business productivity, grow your market & promote your brand with mobile apps development and software solutions from Advansoft.
Contact us today , and let Advansoft team of mobile apps developers & software experts from the best mobile apps development company develop and deliver a top rated and innovative mobile applications for your business, as we have done for Smart Salik and DIB mobile apps and solutions. Advansoft has the best mobile apps developers for all smartphones platforms and apps including:
- ios apps development ( iphone apps and ipad apps)