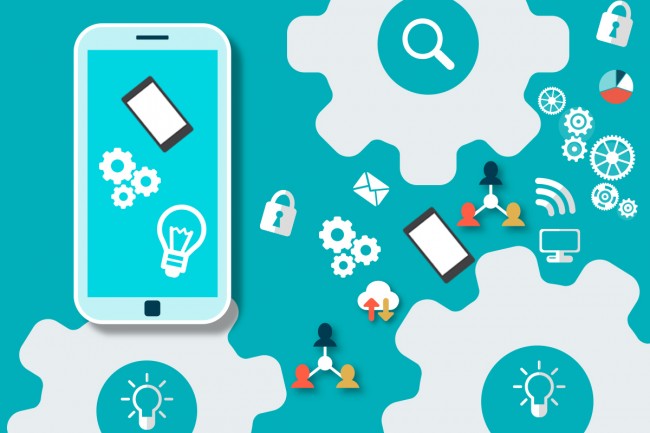 Mobile apps development considerations || Mobile application Development
Things you should consider while developing user-centric mobile apps
The mobile app development market is expanding its reach with every passing day. Today, saying that 'there's a mobile application for everything' isn't wrong at any point. Mobile apps have made an impeccable space in the 'to-do-lists' of many companies. Even the smartphone users have built a distinct relation with these mobile applications.
The mobile app market
According to a report released by Statista, the Gross Annual Revenue of mobile app market will cross $189 billion by 2020. Another report shares that in the preceding year, users have downloaded 149.3 billion apps to their connected devices. And it is expected that the same figure will touch the mark of 352.9 billion app downloads by 2021.
But Wait!!
Before the astounding figures attract you with its exponential growth, here's the other side of the coin. According to a Mobile commerce daily 
report
, 45% retail mobile app users aren't satisfied with their mobile app experience. Another 
report
 shares that in its first three days, an average mobile app loses 77% of its daily active users and 90% in 30 days.
Things to consider
No doubts that the mobile app market is expanding at a good pace, but as reports suggest, the users are still having incomplete expectations from the mobile applications. If you want to surpass the hurdles and succeed in the app world, it is important to build a user-centric mobile application. Though everyone might plan to build an app of the kind, but not all succeed to win the hearts of users. This is why here we are sharing few points that you need to consider while 
building a mobile app
.
1: Understanding the user
The first thing you need to keep in mind is that, you need to do a thorough research of your target audience, their current status, and what they expect to have in their mobile application. You need to study their likes and dislikes before adding the features to your mobile application. You can also try learning about the device that the large section of your target audience is using.
2: Impel yet attractive UI
You don't really have to show all your 'creativity' while building the user interface of your mobile application. Keep it simple and easy to access. Ensure that the content is clearly visible, design elements are friendly, and the controls are placed at the right place. A tangled user interface can be a major reason behind user in satisfaction.
3: Compatibility
There are numerous smartphones and tablets available in the market. This variety has different screen sizes and orientation. You need to code and design your application keeping in mind all these smart devices irrespective of their screen size, OS, etc. To ensure this, you can test your mobile application on various devices.
4: Internet bandwidth
The primary reason behind this massive inclination towards the mobile applications is the time and efforts people save through them. If your mobile application takes a comparatively extra time to load at low internet bandwidth, your app users may eventually abandon your application. It is important that during the testing phase, you conduct a thorough test for the connectivity related performance issues also. Once you have the result with you, it's time to work on presenting the best surfing experience to your users, irrespective of the network connectivity.
5: Release updates
You don't have to present all your skills and expertise at the first launch of your mobile application. And the fact is, you can't even do that. It is important that with the passing days, you learn through your mistakes and accordingly release updates. The best way to do this is through user reviews. Don't leave them unattended. Check what your users expect from the application, and how you can retain them for long. It has been noticed that app updates are the best way to keep users engaged with your brand.
6: Security
With the increasing reach of IoT, the security breach has become quite common these days. Users think thrice before sharing their personal details or giving app permissions. While on one hand, you need to ensure their data safety, on the other side you also need to take care that you don't ask them for the app permissions which are not linked or relevant to your mobile app.
Conclusion
The mobile app industry is going through series of changes. With every passing day, users are expecting something new, innovative, and more user-centric. The enhancing needs have indeed given rise to a tougher competition. The points listed above can indeed be of great help if implemented religiously.
---------------------------------------------------------------------------------------------------
Increase your business productivity, grow your market & promote your brand with mobile apps development and software solutions from Advansoft.
Advansoft is not only one of the top companies in the list of mobile apps development companies in Dubai, UAE , but also among the best mobile applications development companies in GCC region including Saudi Arabia, Qatar , Bahrain , Kuwait and Oman.
Contact us today , and let Advansoft team of mobile apps developers & software experts from the best mobile apps development company develop and deliver a top rated and innovative mobile applications for your business, as we have done for Smart Salik and DIB mobile apps and solutions. Advansoft has the best mobile apps developers for all smartphones platforms and apps including:
-
android apps development
-
ios apps development ( iphone apps and ipad apps)
-
Blackbery apps development
-
Windows phone apps development.